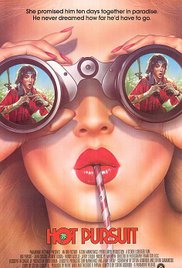 Click Here to See Hot Pursuit » 
This movie is from TubiTv.com
Hot Pursuit Move Review
Danny the struggling college student is busy studying late in the chemistry lab when his adventurous and rich girlfriend, dressed in army fatigues, sneaks into the lab commando style through the ceiling second story windows.  She is excited about the big family trip to the Caribbean.  Danny is invited but he must pass his chemistry exam.  After studying an "all-nighter" Danny falls asleep during the chemistry exam and fails.  He must skip the trip and go to summer school to keep his college scholarship.
When his very tough yet soft hearted chemistry teacher comes to his dorm room, he offers a special "Extra Credit" questions and gives him a passing grade.  Then the chase begins.  When Danny is left behind at the docks he gets drunk and gets shanghaied by a local lonely sailor/pirate.
The hilarious adventures take our hero though exotic islands and dangerous island pirates.
Leave your comments and reviews below.
---